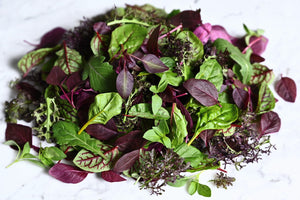 Ideas  |  #GnDKinderMixLivi  |  Inspiration
The eponymous KinderMix for Livi, our second-born "girl #2" of "Girl & Dug Farm."

Featuring tart blood sorrels; grassy burgundy amaranth; the sweet heat of red mustard frills; buttery and faintly bitter notes of rainbow chard; and the always-fun peppery punch of Wasabula™ greens, along with a rotating basil blend, this mix befits her feisty yet tender, punchy yet heartwarming personality.
Quick tip for use:
A single 4-oz bag can serve 3-4 adults.
Add one small handful of Livi mix for every 1 large handful of lettuce for the best balance. KinderMixes are meant to be paired with either of our lines of Crown Lettuce or Salanova Lettuce for the best texture, flavor, and aroma. We highly recommend dressing lightly with a fragrant olive oil, salt, and a splash of acid (even a simple wine vinegar works wonders!) rather than with heavy dressings that tend to drown out the aromatics. 
Individual product purchase options will be available in the future. Please subscribe to our newsletter for updates.