The Oca Journey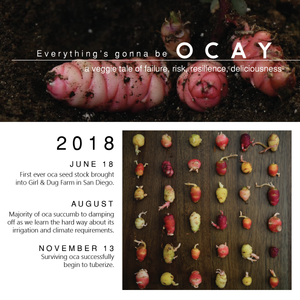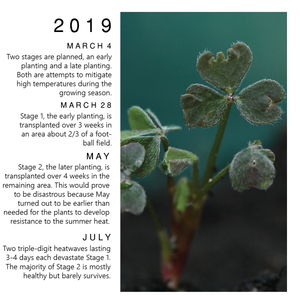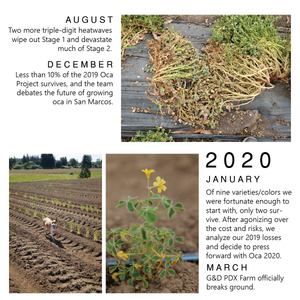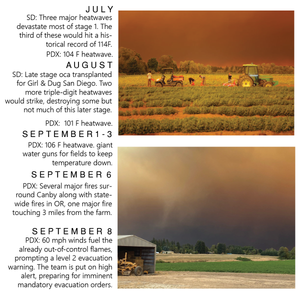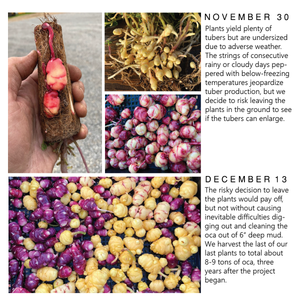 12 Days of Oca | 2020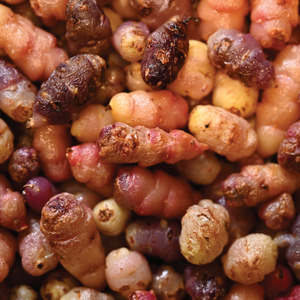 Day 1 . Roast Oca
1-2 lbs whole Oca
neutral high heat oil (grapeseed, peanut)
Toss whole oca in a neutral oil, salt to taste, and roast for 45-60 minutes @ 400F or until fork tender. Some loss of color is normal.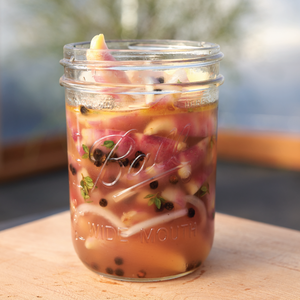 Day 2 . Pickled Oca
12-15 large Oca
1 cup Vinegar (or flavored white wine)
1/2 Onion
1/2 cup Sugar
3 cloves Garlic, crushed
1 tbsp Black Peppercorns
1 tbsp Kosher Salt
Herbs of Choice, roughly chopped (we used lemon thyme)
Quarter oca lengthwise into "spears." Bring liquid to simmer to melt sugar and salt. Add onion, garlic, black pepper. Simmer for 2 minutes then add oca, simmer for 2 minutes more. Let cool and eat immediately, or store in fridge to let flavors develop.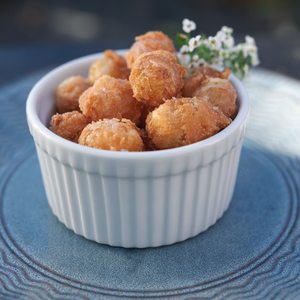 Day 3 . Oca Tots
1 lb (15-20) small-medium Oca (~1-1/4" long)
1 egg
1 cup flour (rice flour is best)
Salt & Pepper to taste
Peanut Oil for frying
Heat oil to 350-375F in fryer, pot, or wok. Wash and dry oca. Mix eggs with salt and pepper, whisk. Salt and pepper the flour mix, add chopped herbs if desired. Drop oca into egg mixture then lift and dredge into flour mixture. Place in oil and cook until they float and have a nice golden brown color. Serve with yuzu aioli or ketchup.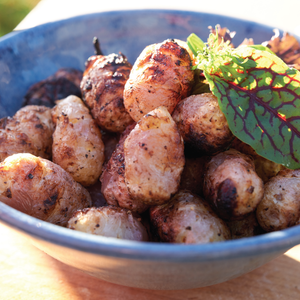 Day 4 . Grilled Oca
Toss uncooked oca lightly with oil and pinch of salt. Place on grill and cook until fork tender.
Day 5 . Brown Butter Oca
8-10 medium sized Oca, diced.
1-1/2 tbsp salted butter
1/4 tsp Ancho Chili powder
1/4 tsp Cinnamon
1/4 tsp Oil
Salt & Pepper
Heat sauté pan with oil and butter until butter begins to form brown bits (do not let butter burn). Add oca, salt, and pepper. Cook on medium high for 5 minutes. Add cinnamon and chili powder, cook 5 more minutes or until fork tender.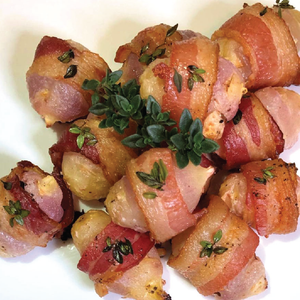 Day 6 . Bacon Wrapped Oca
Wrap oca with bacon and bake in the often for 45 minutes @ 350F. Remove from oven and sprinkled with lemon thyme.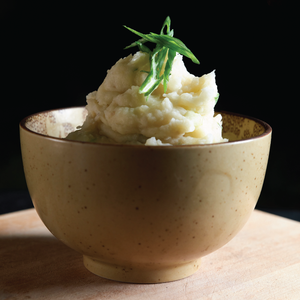 Day 7 . Oca Mash
Use your favorite mashed potato recipe, but use a 1:1 ratio of Oca:Potato. Peel potatoes (our creamy Star Tubers potatoes are perfect for this) and cut into quarters. Combine whole oca and potato pieces, add enough water to cover, bring to boil, close the lid and simmer until pieces are fork tender (about 10-15 minutes). Drain the cooked pieces but reserve some of the cooking water for later. Add salted butter to the rained pieces. Mash for 2-3 minutes, salt and pepper to taste. Add reserved cooking water and more butter for desired texture.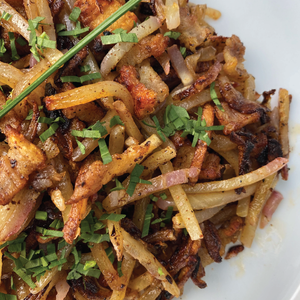 Day 8 . Oca Hash
Equal parts of:
Julienne Oca
Julienne Onions
Thinly-sliced Pork Belly pieces
Salt, pepper, ancho chili powder
Render pork belly to crisp. Remove the pork, set aside, then add onions to the pork fat and cook for 2 minutes on high heat. Add oca, reduce heat to medium, season to taste with salt, pepper, and chili powder while stirring frequently. Add the pork belly back to the pan and cook until the oca turns golden brown.
Serve with a sunny side egg and garnish with Garlic Chive and Spanish Tarragon.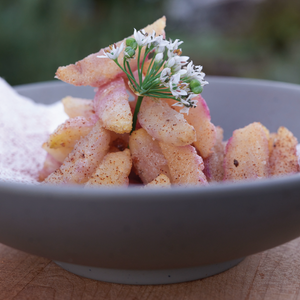 Day 9 . Oca Fries
1 lb large Oca (~2" long)
Frying Oil (Peanut preferred)
Flour (Rice Flour preferred)
Salt
Pepper
Quarter 1 lb of Oca lengthwise into "spears." Air-dry the oca on a rack for about an hour. Combine and toss Oca, salt, pepper, and dusting of rice flour in a mixing bowl. Set fryer or pot on stove and heat oil to 350. Blanch the oca spears in fryer, then let pieces drain and cool. Fry the again ("twice fry") until extra crispy on the outside and fluffy on the inside.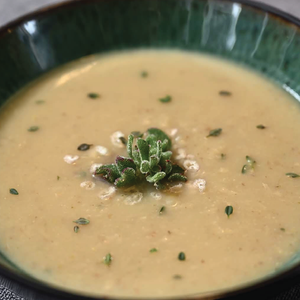 Day 10 . Oca Negi Soup
2 lbs Oca (any size)
4 cups Chicken Stock
3 stalks Tokyo Negi, ~10" white stems
2 large Lemon Bay leaves
5-8 sprigs fresh Lemon Thyme
Salt and Pepper
2-3 stalks Rose Celery (optional)
1/4 stick Butter (optional)
Garnish:
2-3 pcs Iceplant
8-12 pcs Lemon Thyme leaves
Yuzu zest (optional)
1. Cut Negi into ~4-inch sections and slice thin lengthwise. Finely chop lemon thyme. Combine with stock, whole oca, and lemon bay leaves in a medium pot and boil until oca is fork tender, about 18-25 minutes. (Optional: roughly chop rose celery stalks, add with butter into the pot and boil).
2. Reduce heat to a simmer. Remove any lemon thyme sprigs and lemon bay leaves then blend with an immersion blender. Continue simmering for another 5-10 minutes as the soup thickens. Season to taste. Remove from heat, transfer to serving bowls. Garnish sparingly with iceplant and lemon thyme leaves (Optional: add a pinch of yuzu zest with a microplane).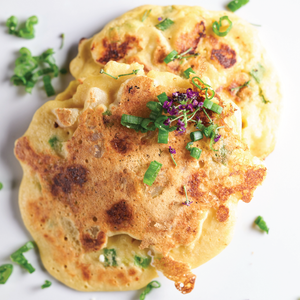 Day 11 . Oca Scallion Pancake
5 oz Oca (any size)
1 cup Flour (we used brown rice flour)
1/4 cup Water
1 tbsp chopped Tokyo Negi white stems (scallions will work)
1 tsp Salt
1. Bake whole Oca on a sheet pan for 40 minutes @ 350F. Let cool and chop coarsely into 1/4 inch pieces.
2. Mix chopped Oca, egg, water, chopped Negi together. Add salt and flour, mix until a smooth batter forms.
3. Heat non-stick pan to medium high. Pour batter and flip pancakes once you can see the air bubbles pop or until golden brown.
Day 12 . Oca Pie
2 cups mashed Oca
1 cup of Marscapone cheese
1 egg, beaten
6 oz Condensed Milk
3/4 cup of Brown Sugar
1 tbsp Honey
1/2 tsp Cinnamon
1/2 tsp Ginger
1/2 tsp Nutmeg
1/2 tsp Salt

1. Bake Oca for 40 minutes at 350F or until completely soft. Mash the Oca and let cool.
2. Combine all ingredients into a large mixing bowl. Blend with immersion blender or food processor until a smooth purée. Pour and spread the filling into a prepared crust.
3. Bake for 35 minutes at 400F or until a knife is inserted and comes out clean.Serve with vanilla ice cream dusted with cinnamon.