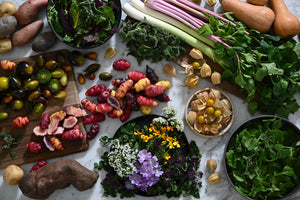 AVAILABLE NATIONWIDE . SHIPS MONDAY & WEDNESDAY
FREE  OVERNIGHT SHIPPING
An assortment of distinctly delicious healthful greens and veggies, inspired by some of the best chefs in the world, elevating what you already do in the kitchen. Contents of the box rotate every two weeks featuring best of the season items. Description of items and recipe ideas will be updated on our website regularly. The short amount of time between harvest and ship out means a long shelf life; an Everyday box can last up to a couple of weeks.
See a sample of the "Everyday Box"


Please note that the list may change depending on availability,
but we'll try to notify here as far in advance as possible of such changes.

Please visit our Instagram feed @girlndugtable for inspiration & ideas!